Yakovlev Yak-9
Talk

0
733pages on
this wiki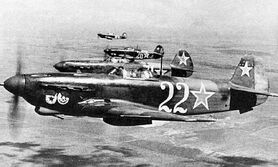 The Yakovlev Yak-9 was a single-seat fighter that was used by the Soviet Union during WWII. It had a Klimov M-105 Engine that was capable of propelling it at speeds of up to 534 km/h. It also had an armament that consisted of a single 20mm autocannon and two 12.7mm machine guns. [2]
Originally known as the Yakovlev Yak-7DI,[N 2] which introduced light alloy wing spars in Yakovlev aircraft, the Yak-9 was the most produced Soviet aircraft apart from the Ilyushin Il-2,[N 3] and first flew in August 1942,[5] Initially fitted with one 20mm cannon and one 12,7mm machine gun, the next sub variant, the Yak-9M,[N 4] was fitted with a second 12.7mm machine gun.
The Yak-9 entered service over Stalingrad in October 1942.[3] Principally used to support ground troops by keeping the air clear of the Luftwaffe and attacking enemy troops,[6] the Yak-9 was also used to escort Il-2s and Pe-2s, as well as attacking forward Luftwaffe bases, rarely operating above 15,000ft. At these low altitudes, the Yak-9 proved to be superior to the Bf 109G-2s it began to encounter over Stalingrad at the end of 1942, with the Soviet fighter possessing greater speed, rate of climb and low level manoeuvrability.[7]
After the war, the type recieved the NATO codename 'Frank'.[4]
Listing from World Aircraft Information files File 913 Sheet 2
Yak-9: Prototype developed from Yak-7DI.
Yak-9M: Standard version of Yak-9.
Yak-9D: Long range escort version. In operation from October 1943, this version had additional fuel, increasing range to 826 miles (1,330 km).
Yak-9T: Anti tank version, tested in December 1942 and entering service in early 1943. Initially fitted with 11P-37 anti armour cannon and racks for 5.54 lb (2.5 kg) PTAB hollow charge bombs. Other Yak-9Ts had MP-20, VYa-23 or MP-23VV cannon.
Yak-9K: Development of Yak-9T. One 45 mm NS-45 cannon with 29 rounds plus one UBS machine gun.
Yak-9B[N 5]: This version had a bomb bay with racks for an 880 lb internal bomb load, which was installed in the lower part of the second fuselage bay.
Yak-9MPVO: Limited production run night fighter, with searchlight and RPK-10 radio compass.
Yak-9DD: Ultra long range escort fighter, developed from Yak-9D with extra fuel, extending range to1,367 miles (2,200 km).
Yak-9U: Metal wing prototype flown December 1943, and phased into production late 1944.
Yak-9UT: Yak-9U with light alloy stressed skin airframe. Entered service early 1945.
Yak-9UV: Two seat conversion trainer version.
Yak-9P: Version with additional fuselage mounted synchronized 20 mm cannon.
Yak-9R: Tactical/Photo reconnaissance version with special equipment.
Yak-9PD: Experimental high altitude version. M-105PD engine with two stage gear driven supercharger. Single 20 mm cannon. Small batch believed to have seen limited action against high flying German reconnaissance aircraft during the late stages of the war.
References
Edit
↑ Gunston, Bill. The Illustrated Directory of Fighting Aircraft of World War II. Salamander Books Ltd. 1988. ISBN 0 86101 390 5 Page 95.
↑ 3.0 3.1

Green, William. Famous Fighters of the Second World War. Purnell Book Services. 1975. Page 99

↑ 4.0 4.1

World Aircraft Information Files Aviation Partwork. Midsummer Books Ltd. File 913 Sheet 2 (A-Z of Aircraft:Yakovlev Yak-7 (continued) to Yakovlev Yak-25 'Flashlight' and 'Mandrake')

↑

Gunston, Bill. 1988. Page 94.

↑

Green, William - Fighters. 1975. Page 102