Willys MB Jeep
Talk

0
727pages on
this wiki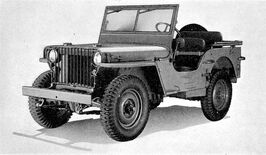 The
Willys MB
is a 4-wheel drive military jeep that was used by the
United States
during
World War II
. The MB is the successor of the original Willys MA and there was crew of 2. Among the changes made, there was a decreased weight. The Willys MB was powered by a 54 hp gasoline engine and it was also capable of carrying 15 gallons of fuel.
[1]
The total wieght of the MB is about 3,200 lb and it was 11 ft. long.
The Jeep could also drive at speeds of around 65 mph and the the user of the jeep could even pull out a canvas top.[2] The Willys MB had a 6 speed forward, 2 speed reverse transmission and there were no variants besides some versions made by different companies that have included some different features. Some Jeeps have also been mounted with some different weapons, but they are still the same Jeep.
The Ford GP was one of the models of jeep that was designed for the US army by Ford, Batan, and Willys. It is very similar to the MB, however it does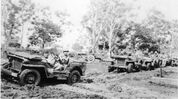 contain differences. One of these differences is the difference between the slat grill of the Willys Mb and holed grill of the GPW.
[3]
Other than these small differences they are the same; only made by different manufacturers. However Willys later changed to the grill to Ford's design.
Production of the Ford GP and Willys MB began in early WWII and they both manufactured a significant number of jeeps by war's end. The both were used extensively in the European Theater. They were in use in the Pacific Theater as well as in the Eastern Front due to the Lend Lease program. The MB and Ford GP was used throughout WWII and was even used after the war. In total, a little over 600,000 Willys MB and Ford GPW Jeeps had been produced during WWII.
References
Edit