The Westland Lysander was a British single-engined multi-purpose aircraft used during World War II. 
History
Design work on the Lysander began in 1935, as an army cooperation and observation aircraft to replace the Hawker Hector. It first flew on June 15th, 1936, and entered service with the Royal Air Force in May, 1938.[1]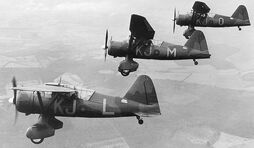 During the war, the Lysander was used in a variety of roles, including observation, ground attack, snd transport. It was even as a fighter occasionally. Over 1,300 were built by the end of its production run, and they remained in service until 1946. The Lysander was best known for transporting spies and resistance fighters behind enemy lines in France, a role it performed well in due to its STOL capabilities.[1]
Variants
Source:World Aircraft Information Files.[2]
Lysander Mk I: 169 original production aircraft with the 890hp (664 Kw) Bristol Mercury XII Radial
Lysander Mk II: Mk I variant with the 905 hp (675 Kw) Bristol Perseus XII. examples supplied to France (21, all but one being ex RAF examples passed to Free French Air Force), Ireland (6) and Turkey (36). An additional aircraft was passed to the National Steel Car Corporation - later Victory Aircraft - as a pattern for 75 examples built in Canada.
Lysander Mk III: 517 Mk I airframes (367 built by Westland and 150 in Canada) with Mercury XX engines
Lysander Mk IIIA: 347 Mk III aircraft with Mercury 30 engine and additional gun in rear cockpit. Examples supplied to Free French (1), Portugal (8) and USAAF (2).
Lysander Mk III (SCW): Mk III aircraft converted for clandestine operatines, with access ladder attached to left side of rear cockpit and additional fuel tank. Service designation Lysander Mk III (SD)
Lysander Mk IIIA (SCW): Mk IIIA aircraft converted for clandestine operatines, with same modifications as Mk III (SCW). Service designation Lysander Mk IIIA (SD)
Lysander TT.Mk I: Mk Is converted for target towing
Lysander TT.Mk II: Mk IIs converted for target towing
Lysander TT.Mk III: Mks I/II/III converted for target towing
Lysander TT.Mk IIIA: 100 new build Mercury 30 target towing aircraft
References
↑

World Aircraft Information Files Aviation Partwork. Midsummer Books Ltd. File 911 Sheet 1 (A-Z of Aircraft:Westland Lynx to Westland Wapiti)
Ad blocker interference detected!
Wikia is a free-to-use site that makes money from advertising. We have a modified experience for viewers using ad blockers

Wikia is not accessible if you've made further modifications. Remove the custom ad blocker rule(s) and the page will load as expected.