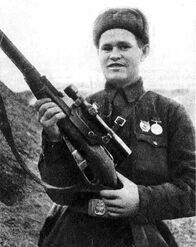 Vasily Zaitzev
(1915-1991) was a Soviet sniper during World War II. He is most famous for his actions at Stalingrad in which he killed over 200 enemy soldiers. He was wounded at Seelow Heights and became temporarily blind. Vasily Zaitzev went to the front at the rank of Sergeant, because he joined the Russian Navy.
Following his death, Zaitsev was buried on the Mamayev Kurgan.[1]
References
↑ Roberts, Andrew. The Storm of War - A new history of the Second World War. Penguin Books. ISBN 978 0 141 02928 3. (2010). Pages 325-326
Ad blocker interference detected!
Wikia is a free-to-use site that makes money from advertising. We have a modified experience for viewers using ad blockers

Wikia is not accessible if you've made further modifications. Remove the custom ad blocker rule(s) and the page will load as expected.