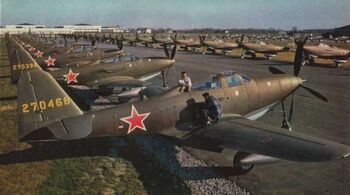 Hello fellow users and readers and welcome back to the newsletter! Today's fact of the is the withdrawal of German troops from the city of Kharkov and Soviet liberation, taking place in 1943. Anyway, nothing that is too critical has come up on the wiki, though I cannot stress enough the importance of the newly rennovated
Image Archive
. I and the other editors have been working tirelessly to find more unique and better quality photographs of WWII. So far, our work has been posted in the image archive which features all photos on the wiki that were taken during the war. As a complement to the articles on the wiki, I highly recommend that any and all readers go to the image archive. Some of the photographs featured there are the best the wiki has to offer, many being in color. The archive is updated almost daily, though the new entries cannot be seen through recent wiki activity. Meaning that even if it is not visible that we are editing articles, it could be that we are adding to the image archive. 
Another point I would like to make is suggestions and questions. I find it excellent that I see more and more of our readers describing in the duscussion pages of articles questions, changes they would like to make, etc. Furthermore, while I cannot answer every question, I do read all of them and they inspire me to write more unique articles based on what was asked for. Anyway, thank you all for taking the time to read the newsletters and updates and I hope to here from the community again soon!
 Fargo84  Talk  Contributions  World War II   22:34, July 10, 2016 (UTC)   02:37,2/17/2014 02:37, February 17, 2014 (UTC)
UPDATE
Considering the relatively few numbers of editors on the wiki, I've decided to shut down Editor of the Month, at least for now. When more editors come it will be brought back.  Fargo84  Talk  Contributions  World War II   22:34, July 10, 2016 (UTC)   03:45,2/17/2014 03:45, February 17, 2014 (UTC)
Ad blocker interference detected!
Wikia is a free-to-use site that makes money from advertising. We have a modified experience for viewers using ad blockers

Wikia is not accessible if you've made further modifications. Remove the custom ad blocker rule(s) and the page will load as expected.