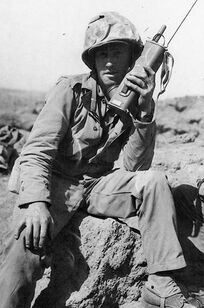 Hello I'm Fargo84,
I am a World War II buff and I felt this wiki needed some more awesome pages. My ultimate goal is to make this the ultimate WWII site on the web. I welcome anyone willing to join me. This is my main wiki and I will be constantly checking for any messages.
Don't forget to vote on the polls too! I will reset and change the polls after a certain number of people have voted. I also hope that this wiki can expand about 100-200 pages a year. That mission cannot be accomplished with only few contributers. That is why I hope that many people join our community and help us complete that goal.
I am an admin on the wiki and I constantly check the wiki for more contributions. I am also part of the WWII Wiki Newsletter Team. My new year goal is to be the #1 contributor for 2013 and to make this wiki have over 800 pages!
Admin To-Do List
Here is my to-do list that as an admin lists all of the important political and code work that I have to complete.
Questions, Comments, Suggesations? Tell me at my talk page!
Investigate the possibility of a new battle video section
Clean up list of unsorted information
Develop plan to expand wiki to new language
Work with the Admin Mentors
Publish biweekly newsletter
Fix broken links and or broken categories
Awards and Favorites
| | |
| --- | --- |
| | This user has been awarded for outstanding service to the wiki |
| | |
| --- | --- |
| | This user is part of the old breed of users |
| | |
| --- | --- |
| | This user is an intelligence officer |
| | |
| --- | --- |
| | This user is a fan of the T-34 |
| | |
| --- | --- |
| | This user is a fan of General Patton |
| | |
| --- | --- |
| | This user fears tigers |
| | |
| --- | --- |
| | This user is interested in the Pacific War |
| | |
| --- | --- |
| | This user has won the Wunderwaffe Month Contest |