United States Navy
Talk

0
735pages on
this wiki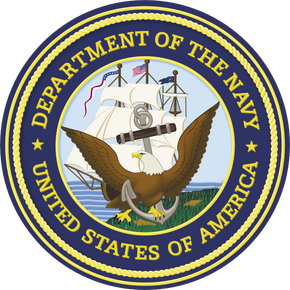 The United States Navy is the naval warfare branch of the United States military.
Established in 1797, the US Navy is still active as of today. During World War II, the US Navy became one of the largest in the world, requiring ships in both the Atlantic and Pacific Oceans. During the war, it played a major role in many important conflicts, including the Invasion of Normandy, the Battle of Midway, the Solomon Islands Campaign, and many more.[1]
United States Naval Aviation is part of the Naval Organisation, and is under the direction of the Secretary of the Navy.[N 1]
Administration
Edit
Organisation
Edit
The Aircraft Squadron is the standard administrative and tactical unit in all naval operations. Carrier based squadrons comprise eighteen aircraft, sub-divided into two divisions of nine aircraft each. Patrol squadrons comprise six or twelve aircraft, but squadrons operating from battleships and cruisers vary in their complement. Three sections of three aircraft form an Observation Squadron attached to each battleship division of three ships. Four cruisers usually form a division, and each cruiser carries a section of four aircraft, the four sections forming a cruising scouting squadron.[2]
References
Edit
Bibliography
Edit
Gunston, Bill (Forward). Jane's Fighting Aircraft of World War II. Tiger Books. 1989. ISBN 1-85501-996-5. (Reprint of Jane's All The World's Aircraft 1945/1946. Bridgeman, Leonard (Editor). 1946).