United States Coast Guard
Talk

0
733pages on
this wiki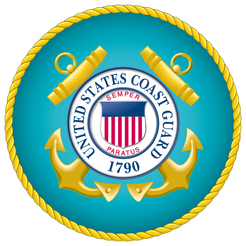 The United States Coast Guard was established by an act of Congress on January 28 1915, by combining the Revenue Cutter Service, founded in August 1790, with the Life Saving Service, founded in 1878. The act stated that the Coast Guard should constitute a part of the military forces of the United States, operating as part of the United States Navy. The Lighthouse Service, which was founded in 1789, was transferred to the Coast Guard on July 1 1939, as part of the President's Reorganization Plan No 11. [1]
It has varying roles ranging from aiding survivors of a natural disaster to engaging enemies on the United States coast. During WWII the Coast Guard functioned as a watch for the enemy on U.S. coasts with a large role being looking for enemy German submarines in the Atlantic Theater. The Coast Guard also rescued survivors from naval vessels near the U.S coast whether it be attacked merchant ships or sunken U-Boats. The Coast Guard still operates today as a branch of the Navy.
Organisation
Edit
For administration and operational purposes, the United States and her territorial waters - including territories and insular possessions, but excluding the Philippine Islands - are divided into 13 districts. Each of these comes under the command of a district commander, operating directly under the Coast Guard Commandant.[1]
Personnel
Edit
Coast Guard members wear uniform similar to members of the U.S. Navy. Officers have a gold shield instead of a star on their sleeves, and their cap badge features an eagle with a silver shield on it's breast, and grasping a horizontal foul anchor in it's talons. A shield is also worn on the sleeves of the men.[2]
By 1945, the Coast Guard had 10 air stations in operation, located at Salem, Massachusetts; Charleston, South Carolina; New York, New York State; Miami, Florida; St Petersburg, Florida; Biloxi, Mississippi; San Diego, California and San Francisco, California.[2]
References
Edit
↑ 1.0 1.1 McMurtrie, Francis E. (Editor) Jane's Fighting Ships of World War 2. Tiger Books International. ISBN 0517679639 Page 307