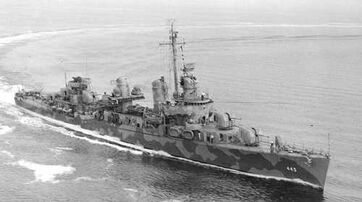 The USS Fletcher (DD-445) was a naval destroyer that was used by the United States during World War II. It had a crew of 273 and was powered by several steam turbines. The total displacement of the USS Fletcher was 1,905 metric tons while its armament consisted of five 5"/38 Naval Guns, four 1.1"/75 AA Guns, six Oerlikon Autocannons (20mm), ten torpedo launchers, and several racks of depth charges.[1]
The Fletcher was the lead ship in the Fletcher Destroyer Class and was commissioned in mid-1942. The USS Fletcher managed to survive the whole of the Pacific War and was scrapped in 1972. The Fletcher won a number of battle stars during the second world war and also fought in the Korean war.
History
The USS Fletcher was first assigned to New Claedonia in 1942 and almost as soon as it arrived, it began its service by carrying out escort duty and providing naval bombardments during the Battle of Guadalcanal. Fletcher also played a crucial role in securing the seas around the island by engaging in an all-out sea battle with Japanese forces which ultimately resulted in The destruction of two Japanese destroyers along with the loss of the Japanese battleship Hiei.
References
Ad blocker interference detected!
Wikia is a free-to-use site that makes money from advertising. We have a modified experience for viewers using ad blockers

Wikia is not accessible if you've made further modifications. Remove the custom ad blocker rule(s) and the page will load as expected.