Type 82 Kübelwagen
Talk

0
734pages on
this wiki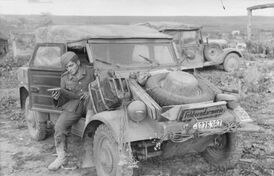 The Type 82 Kübelwagen was a car used by Germany during World War II. The only crew it had was the driver and it could carry 3 other passengers. The Kübelwagen also had an air-cooled, gasoline Type 1 Engine capable of propelling the Kübelwagen at speeds of up to 80.4 km/h.
The total length was 3.74 meters and the weight was about 725 kg. The Kübelwagen had a 4 speed forward, 1 speed reverse transmission and a 2.4 meter wheelbase.
It was also capable of setting up a canvas top and carrying an extra tire on the front. It's fuel tank could hold about 30 liters of fuel and the engine was placed in the back of the vehicle.