Type 1 Ho-Ha
Talk

0
734pages on
this wiki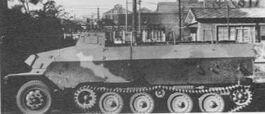 The
Type 1 Ho-Ha
was a half-track that was used by Japan during WWII. It had a crew of three and could carry twelve passengers. The Ho-Ha also had a diesel powered, 134 hp, Hino engine capable of propelling the Ho-Ha at speeds of up to 50 km/h.
[1]
The armor protection on almost all parts of the half-track was 8mm thick and the armament were three Type 97 MGs. The positions of these guns was somewhat of a problem because it was impossible to fire to the rear or the front.
The Ho-ha had a Bell Crank suspension system and the weight was about 5,443.1 kg.[2] The length was 6.1 meters and the width was 2.1 meters. The Type 1 was based on the German Hanomag or SdKfz 251/1, but it had many differences. One of these differences was that the Type 1 could carry three more people. One of the unique features of the Ho-Ha was that it had a towing hitch for towing artillery.[3] There were no variants of the Ho-Ha and production was limited.
The Ho-Ha was designed in 1941 although it was first produced in 1944. The Ho-Ha was meant to be a an infantry carrier that would protect troops against enemy fire. Very few were deployed, but some were sent to China and Japan. One of the only uses of the Ho-Ha in combat was in the Philippines. The ho-Ha was not the only APC used by Japan however, the Type 1 Ho-Ki was also used in limited numbers.
References
Edit
↑ http://ww2drawings.jexiste.fr/Files/1-Vehicles/Axis/3-Japan/08-Halftracks/Type1_Ho-Ha/Type1_Ho-Ha.htm