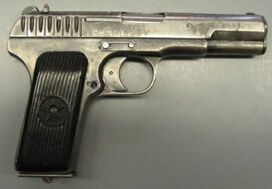 The Tokarev TT-30 was a single-action pistol that was used by the Soviet Union during World War II. The TT-30 fired the 7.62×25mm Tokarev Cartridge and had a magazine capacity of eight rounds. It had a weight of 0.91 kg and a length of 11.6 cm.
The Tokarev TT-33, which was produced after the TT-30 was the successor of the TT-30. The two were almost identical with the Tokarev TT-33 having a few slight advantages in accuracy and range, even though the TT-30 was a little bit lighter. The TT-33 was made to simplify production of the TT-30. It was a preferred weapon due to it being easy to conceal. It was also very reliable, accurate, cheap, and light. It had a decent range for a pistol thanks to the rare low-caliber, bottlenecked cartridge and was a favorite among troops.
History
The Tokarev TT-33 was first produced in 1933 after the redesign of the earlier TT-30 which was produced in 1930 to replace older army revolvers. Both pistols were very quickly adopted into Red Army service, but it was the TT-33 that surpassed in production, being much more common than the TT-30. Throughout World War II, the TT-33 was used mainly by officers, but sometimes by regular foot soldiers. It was manufactured by Tula Arsenal, and later by Zastava Arms and Norinco. It was produced locally in China, North Korea, Pakistan, Egypt, Hungary, Poland, Yugoslavia, Romania, and Czechoslovakia. It was used by many more, such as Chad, Mozambique, Croatia, Guinea, Laos, Vietnam, Cambodia, Libya, Kyrgyzstan, Tadzikistan, Malta, Mongolia, Montenegro, Algeria, Angola, Afghanistan, Georgia, Lithuania, Madagascar, Benin, Belarus, Bangladesh, Azerbaijan, Zambia, Mauritania, Syria, Iraq, Uganda, and Zimbabwe. The TT-33 also saw very limited use after World War II in the hands of the Viet Cong, Khmer Rouge, Taliban, and other guerilla forces.
In 1951, in the Soviet Union the Tokarev TT-33 was replaced by the even cheaper Makarov PM. The Makarov had a 12 round magazine larger than the TT-33s 8 round magazine, but used the proprietary 9x18 mm cartridge. The Makarov also had greater range and was slightly lighter and marginally more accurate. Despite this, the TT-33 remained in extremely limited use by Soviet soldiers until the late 1970s, when it was made completely obsolete, not only by the cheap, compact and simple Makarov, but also by the Czechoslovakian CZ75, which was available for situations that demanded an effective pistol.
References
Ad blocker interference detected!
Wikia is a free-to-use site that makes money from advertising. We have a modified experience for viewers using ad blockers

Wikia is not accessible if you've made further modifications. Remove the custom ad blocker rule(s) and the page will load as expected.