The Semovente 90/53 was a tank destroyer produced by Italy during World War II. The vehicle required at least three men to operate, but often had an addition crew member, a commander added. 
History
The Semovente 90/53 ("Self-propelled gun 90 mm 53 calibers.") was Italy's only heavy tank destroyer during the North African Campaign. Built on the chassis of the Fiat M14/41, with a 90 mm anti-aircraft gun, it was designed to operate at a long range. The Semovente 90/53 was an open-top vehicle, and the back was likewise open, due to the size of the main gun. This was not considered a problem, as the tank destroyer was envisioned to have a long-range kill-rate to operate outside enemy vehicle's fire. The crew was exposed against shrapnel and small arms fire as a result. Production began in 1941, with a total of forty-eight built.[1] the Semovente saw effective service in the North African Theater, and continued to be used by Germany after the Italian Armistice. However, due to the environment of Italy, which made it difficult to operate tanks, and therefore removed the need for tank destroyers,[1] it was used as a long-range artillery piece.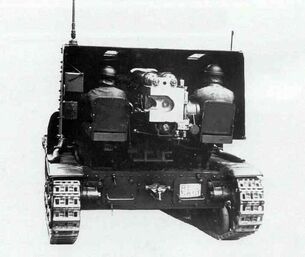 Specifications
Source:Weapons of World War II[2]
Powerplant: 1 SPA 15 TM 41 V8 diesel engine
Top speed: 22 mph
Range: 125 miles on road
Crew: 4
Length: 17 ft 4 in
Width: 7 ft 5 in
Height: 7 ft 5 in
Armor: .2 - 1.2 inches thick
Armament: One 90 mm Cannone da 90/53; one .5 cm machine gun 
References
↑

Lüdeke, Alexander. Weapons of World War II. Parragon Books (2007), Page 90
Tracked Armored Vehicles of the Royal Italian Army

Light Tanks
Medium Tanks
Heavy Tanks
Self Propelled Guns
Tank Destroyers
Tankettes
Ad blocker interference detected!
Wikia is a free-to-use site that makes money from advertising. We have a modified experience for viewers using ad blockers

Wikia is not accessible if you've made further modifications. Remove the custom ad blocker rule(s) and the page will load as expected.