The SdKfz 247 Leichter Panzerspähwagen was an armored car that was used by Germany during World War II.
Description
The SdKfz 247 had a Horch 3.5 engine that was capable of propelling it at speeds of up to 80 kilometers per hour. The SdKfz 247 also had a crew of six men and an armament that consisted of a single MG 34 mounted in a gunner position. The total length of the SdKfz 247 was about 5 meters while the total weight was about 4,000 kilograms.[1] The SdKfz 247's armor protection was about 8 mm thick. Although it was armed with an MG 34, the car itself was designed for reconnaissance purposes only as was the thinly protected crew compartment and open roof.
The 247 also had a 4 speed forward, 1 speed reverse transmission system and had good reliability. Although, the Ausf. A model had very limited capability for traveling cross-country and as was advised by the crew's superiors, the SdKfz 247 was limited to mainly roads only.
Variants
The first and only variant of the SdKfz 247 armored car series was the Ausf. B version. It had an improved chassis and an improved maximum range of 400 kilometers. Furthermore, the engine of the Ausf. B was upgraded. In total, about fifty-eight of the Ausf. B models were made.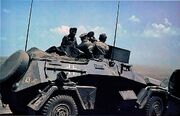 History
The SdKfz 247 was first developed 1937 and the Ausf. A model was produced later the same year. However, the Ausf. B was only produced several years later in 1941. The cars were used in limited service throughout the war. In total, sixty-eight examples were made.[2] Because of few were built, it is very rare for wartime photographs of the vehicles in service to arise. Furthermore, no examples still survive to today.
References
Ad blocker interference detected!
Wikia is a free-to-use site that makes money from advertising. We have a modified experience for viewers using ad blockers

Wikia is not accessible if you've made further modifications. Remove the custom ad blocker rule(s) and the page will load as expected.