SdKfz 231
Talk

0
729pages on
this wiki
This article is about This page refers to the SdKfz 231 with only 6 wheels, you may be refering to the SdKfz 231 with Eight Wheels
---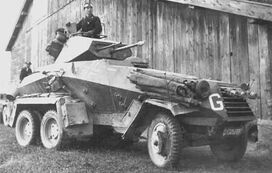 The
SdKfz 231
or
Schwerer Panzerspähwagen
was a 6 wheeled, armored car used by
Germany
during WWII. It either had a 60 hp,
Daimler-Benz M09 Engine
, a 80 hp,
Büssing-NAG L8V/GS Engine
, or a 65 hp, Magirus 4- Engine all of which were powered by gasoline and they could propel the SdKfz 231 at speeds of around 53 mph. The weight of the SdKfz 231 was about 12,500 lb (5,700 kg) and the length was about 18 feet (5.5 meters). The armament was a 20mm
KwK 30
main gun and an
MG 13
mounted next to it in the turret.
The SdKfz 231 also had a crew of 4 and a carrying capacity of 200 KwK 30 rounds and about 1,500-2,000 MG 13 rounds. The armor on the SdKfz 231 ranged between 0.1 inches (5mm) thick to 0.3 inches (8mm) thick. It also had a 4 speed forward, 1 speed reverse transmission and the wheels were positioned 3 on each side of the car. The SdKfz 231 was used up to the early 1940's and then it was superceeded by the SdKfz 232.[1]
SdKfz 232 and SdKfz 263
Edit
The SdKfz 232 was very similar to the SdKfz 231 only it was fitted with advanced radio equipment which meant that some frames were added to the turret. However, the turret could still move around and it kept the 20mm canon. The SdKfz 232 is about 2 feet taller than the SdKfz 231 which stands at about 7' 4" and instead of an
MG 13
, an
MG 34
was mounted in the turret and coaxially.
[2]
The SdKfz 232 was also capable of carrying about 1,500 more rounds of ammunition for the MGs and it had slightly thicker armor. The SdKfz 232 was about 1,000 pounds heavier than the SdKfz 231 and it had a 6 speed forward, 6 speed reverse transmission. The SdKfz 263 had only one Mg and the turret was fixed. It had a crew of 5 unlike the previous versions and it was fitted with even more radio equipment. Although the SdKfz 263 was very similar to the SdKfz 232.
The SdKfz 231 began production in 1932 and their use in combat lasted until about 1940.[3] Then they were used mainly as training vehicles, but the ones used in combat were mainly used during the Fall of France. There were many different manufacturers of the SdKfz 231 including Daimler-Benz, Keil, and Büssing-NAG. The number of SdKfz 231 made was about 120.
References
Edit