SdKfz 138/1 Grille
Talk

0
733pages on
this wiki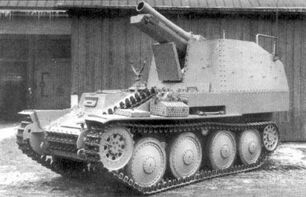 The
SdKfz 138/1
Grille
or
"Cricket"
was a Self-Propelled Artillery Piece that was used by
Germany
during
World War II
. It had a 147 hp, gasoline powered, Praga EPA/2 engine capable of moving the Grille at speeds of up to 22 mph and the main gun was protected on the sides by a 15mm thick armor plating. The Grille had a crew of 5 and it had a 5 speed forward, 1 speed reverse transmission. The weight was 25,353 lb (11,500 kg) and the length was around 15.1 feet (4.61 meters). The chasis of the Grille was based off of the Czech made
Panzer 38(t) Ausf. H
and this is why the first production model of the Grille is designated the SdKfz 138/1 Grille Ausf. H. The Grille also had a
FuG 16
radio for Communicating with other
German
forces.
[1]
The armament of the SdKfz 138/1 was a 150mm (15 cm) sIG 33 main gun and an MG 34 for defense of the crew. Some of the draw backs for the main gun included the fact that an ammunition carrier had to take most of the 150mm shells and in order to fire in a new direction, the entire vehicle had to turn in the intended direction.[2] The only variant of the Grille was the Ausf. M.
Grille Ausf. M
Edit
The SdKfz 138/1 Ausf. M was the only variant of the Grille and it was based on the Panzer 38(t) Ausf. M. As such the engine was placed in the middle of the vehicle and the gun mount was moved to the rear of the hull. Although these are the only major differences as the Ausf. M had the same gun, engine, and suspension as the Ausf. H.
The SdKfz 138/1 Ausf. H began production in Febuary of 1943 and the SdKfz 138/1 Ausf. M began production in April 1943. The models were mainly produced by BMM and in total, about 490-500 Grilles were produced. They were used by panzer divisions in the Soviet Union along with units in Poland and France. They were used up to 1945 and they also served in Tunisia where they fought enemy artillery and tanks.[3]
References
Edit