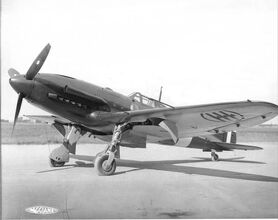 The Reggiane Re. 2005 Sagittario (Archer) was a fighter bomber used by Italy during the war. It had a FIAT R.A 1050 Engine that was capable of propelling it at speeds of up to 628 km/h.
History
Developed by Roberto Longhi in 1941 to take advantage of the DB605A aero engine, the first prototype of the Re.2005 was first flown on 10 May 1942, but orders for 34 pre-series and 750 production aircraft, to be powered by the 1,475 hp Fiat RA 1050 RC58 Tifine (Typhoon) - Italian built versions of the DB605A - and armed with three 20mm MG 151/20 autocannon and two 12.7 SAFAT machine guns, were not submitted until February 1943.
In the event the production examples were not built. Eleven of the pre-series aircraft, together with the VDM propeller equipped second prototype, were requisitioned by the Luftwaffe after the Armistice of 1943, with 20 of the remaining aircraft briefly serving with the Regia Aeronautica.[1]
Specification
The Re.2005 was 28ft 73/4in (8.73m) long and 10ft 4in (3.15m) high, with a wingspan of 36ft 1 in (11m). Max speed was 421 mph (678 km/h) at 23,965 ft (7,000m) and range was 776 miles (1,250 km). Empty Weight was 5,732 lb (2,600 kg) and loaded weight was 7,959 lb (3,160 kg).[1]
References
↑ 1.0 1.1 Green, William and Gordon Swanborough. Complete Book of Fighters. Salamander Books. 2001. ISBN 1-84065-269-1 Page 490
Ad blocker interference detected!
Wikia is a free-to-use site that makes money from advertising. We have a modified experience for viewers using ad blockers

Wikia is not accessible if you've made further modifications. Remove the custom ad blocker rule(s) and the page will load as expected.