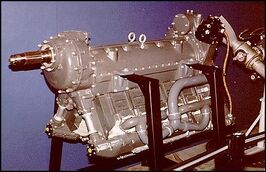 The V-770 was an inverted V-12 air cooled aircraft engine developed for use in US Aircraft during World War II. The engine had a displacement of 773 cu in, bore of 4 inches, stroke of 5.125 inches and a compression ratio of 6.5:1. [1] The V-770-11 engine illustrated weighed 730 lbs, measured 62 inches in length with a width of 28 inches and height of 32.25 inches, and delivered 520 hp at 3,000 rpm.
History
First flown in 1931,[2] the engine was designed to use 87 octane fuel. Apart from the Bell XP-77, use of the V-770 appears to have been limited to the Fairchild AT-21 gunnery training aircraft.[1]
References
↑ 1.0 1.1 Gunston, Bill (Forward). Jane's Fighting Aircraft of World War II. Tiger Books. 1989. ISBN 1-85501-996-5. (Reprint of Jane's All The World's Aircraft 1945/1946. Bridgeman, Leonard (Editor). 1946).
Ad blocker interference detected!
Wikia is a free-to-use site that makes money from advertising. We have a modified experience for viewers using ad blockers

Wikia is not accessible if you've made further modifications. Remove the custom ad blocker rule(s) and the page will load as expected.