Portal:The North African Campaign
Talk

0
734pages on
this wiki
Welcome to North African Campaign Portal!
This is the North African Campaign Portal!, here you can add pages to list of what you would like to see added to the wiki about the many battles in the deserts of North Africa or talk to other users about the campaign. To talk about tanks, battles, or anything relating to the North African Campaign, please refer to this portal's respective forum, not this portal's talk page.
The North African Campaign first began when British forces stationed in Egypt began raiding Italian positions in located in Libya following the Italian alignment with Germany and declaration of war on Britain and France. In response, Italian forced invaded Egypt but were quickly pushed back by British forces. In order to protect their ally from collapsing, Germany had sent a detachment of its own, the Afrika Korps in order to support the Italians. The British were soon pushed back themselves and continued to retreat until their last stand at El Alimein in which they finally scored a victory over the Germans. German forces then pulled back across the North African deserts and at the same time, American forces landed in Tunisia behind German lines. However, after early attacks, it was apparent that the inexperienced Americans wouldn't immediately be able to defeat the Germans. One of the worst defeats of the Americans came during the Battle of Kasserine Pass. The Americans soon learned their lessons with the addition of a new general George Patton. After the allies had collectively decided to push on, the Afrika Korps after immense pressure finally surrendered.
Featured North African Campaign Portal Article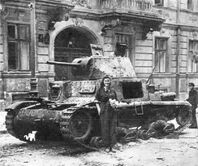 The Carro Armato M13/40 was a medium tank used by Italy during WWII. It had 1.6 inches of armor maximum, 1 inch of armor minimum, it could go 20 mph on a road, and its combat weight is 33,000 lb. It also had a crew of four and a 125 hp, SPA 8 TM40 V8 diesel engine.
The armament was a 47mm main gun, 1 Breda M38 MG in an AA position, 2 Bredas in the hull, and 1 Breda M38mounted coaxially. The length of the M13/40 was 16 feet, 2 inches and the width was 7 feet, 2 inches. It also had a 4 speed forward, 1 speed reverse transmission and a bogie suspension system. The Carro Armato M13/40 was capable of carrying 104 rounds for its main gun, over 3,000 rounds for its MGs, and about 50 gallons of fuel. Read More
Articles that should be added or expanded