Portal:The Homefront
Talk

0
726pages on
this wiki
Welcome to Homefront Portal!
This is the Homefront Portal, here you can add pages to list of what you would like to see added to the wiki about each country's homefront or talk to other users about each different country's homefront. To talk about companies, civilian life, or anything relating to the homefront, please refer to this portal's respective forum, not this portal's talk page.
A homefront is a country's civilian environment during war. To supply for war, often times factories that would normally make civilian items convert to all-out war production, making aircraft, munitions, tanks, etc. Civilians are often forced to ration and are sometimes deceived by propaganda. Civilians are also subject to enemy attacks if the nation is close to enemy forces. An example of these raids is The Blitz.
Featured Homefront Article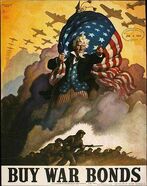 Propaganda is a way to influence a group's attitude towards a cause or movement. It can be done using posters or it can use mere rumors. It can even be done via newspapers and magazines.
Instead of providing plain information. propaganda mainly presents information selectively so that only the positive or negative parts of something are described; it may influence a group of people towards a cause either supporting it or opposing it. Read More
Articles that should be added or expanded