Panzer IV
Talk

0
728pages on
this wiki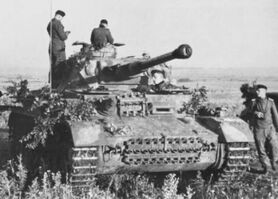 The Panzer IV, or SdKfz 161, was a medium tank that was used by Germany during World War II. It was the most commonly used tank in Germany's arsenal and the first production model was called the Ausf. A. The Ausf. A had a gasoline powered Maybach HL 108TR Engine that was capable of propelling the Panzer IV at speeds of up to 41.8 km/h.
The armament of the Ausf. A was a 75mm KwK 37 main gun and two MG 34s. An additional MG 34 could also be mounted. The type of radio commonly used with the Ausf. A was the FuG 5 and it also required five crew members in order to function properly.
The total weight of the Panzer IV was about 16,700 kg while the total length of the Panzer IV was 5.6 meters.[1] The total range of the Panzer IV Ausf. A was also about 210 kilometers while this distance would be increased with future models. Armor thickness was only 30mm maximum, although this was sufficient for the early years of the war, as the war went on, this became evermore outdated.
References
Edit
Tracked Armored Vehicles of the Wehrmacht

Light Tanks
Medium Tanks
Heavy Tanks
Self Propelled Artillery
Self Propelled Guns
Tank Destroyers
Armored Recovery Vehicles