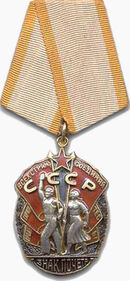 The Order of the Badge of Honor was a civilian medal that was awarded by the Soviet Union during WWII.
Description
It was established in 1935 and it was discontinued in 1988. It has a width of 28mm and is 39mm tall.[1] The award was given to civilians who had created breakthroughs in scientific, economical, or in factory production. In total, about 1.5 million medals were made and distributed from 1935 to 1988 when it was discontinued.
The medal consisted of a white and yellow piece of cloth attached to the medal piece. The medal piece itself was made of solid silver with colored enamel for the detailing for example on the background. Inscribed on the bottom half of the medal is "Insignia of Honor".[2]
References
Ad blocker interference detected!
Wikia is a free-to-use site that makes money from advertising. We have a modified experience for viewers using ad blockers

Wikia is not accessible if you've made further modifications. Remove the custom ad blocker rule(s) and the page will load as expected.