Ad blocker interference detected!
Wikia is a free-to-use site that makes money from advertising. We have a modified experience for viewers using ad blockers

Wikia is not accessible if you've made further modifications. Remove the custom ad blocker rule(s) and the page will load as expected.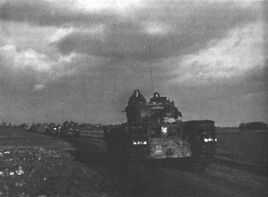 Operation Clipper
was an Allied offensive to reduce the size of the Geilenkirchen Pocket near Aachen. It resulted in an eventual Allied victory. However, the Allies suffered heavy losses.
The first Allied troops to reach Aachen were units of the US First Army, who arrived in the area on September 16th, 1944,[1] but a planned October 1st attack against the Siegfried Line was frustrated by bad weather.[2]
References
Edit
↑ Goralski, Robert. World War II Almanac 1931-1945. Hamish Hamilton Ltd. 1981. ISBN 0 241 10573 0 Page 347
↑

Gorelski, Robert. Page 349