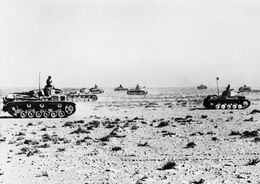 Operation Brevity was a small offensive launched by Great Britain in North Africa during in May 1941. The attack aimed to gain territory as a launching point for Operation Battleaxe. After a day of fighting, the small British force withdrew to avoid large casualties being inflicted from a German counterattack. The operation, resulting in minor casualties on both sides, resulted in the capture of Halfaya Pass although the pass was recaptured by the Germans two weeks later.
The armoured strike force for the operation was led by Brigadier William Gort[1]
References
↑ Roberts, Andrew. The Storm of War - A new history of the Second World War. Penguin Books. ISBN 978 0 141 02928 3. (2010). Page 281
Ad blocker interference detected!
Wikia is a free-to-use site that makes money from advertising. We have a modified experience for viewers using ad blockers

Wikia is not accessible if you've made further modifications. Remove the custom ad blocker rule(s) and the page will load as expected.