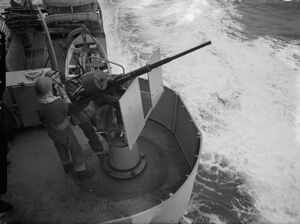 The Oerlikon AA gun was an anti aircraft weapon that was used by the Allies during World War II. It required a crew of only one man to operate and was fed by a 60 round magazine.
Description
Chambered for the 20 x 110RB round, the Oerlikon weighed 67 kg, measured 216 cm in length with a 140 cm long barrel, and utilized the Advanced Primer Ignition (API) blowback method of operation, giving a rate of fire of 450 rounds per minute.[1]
Associated weapons
The Oerlikon served as the basis for the Hispano-Suiza HS.404, which led to the British Hispano Autocannon and the US American Armament Co. AN-M2C, and the Japanese Type 99
References
↑ Williams, Anthony G. Rapid Fire - The Development of Automatic Cannon, Heavy Machine Guns and their Ammunition for Armies, Navies and Air Forces. Airlife Publishing. 2000. ISBN 1-84037-122-6 Page 244
Related Links
Artillery of the United States Army

Howitzers
Anti-Tank Guns
Field Guns
Anti-Aircraft Guns
Rocket Artillery
Railway Guns
Coastal Artillery
Artillery of the Royal Army

Howitzers
Anti-Tank Guns
Medium Guns
Anti-Aircraft Guns
Rocket Artillery
Mountain Guns
Railway Guns
Heavy Guns
Ad blocker interference detected!
Wikia is a free-to-use site that makes money from advertising. We have a modified experience for viewers using ad blockers

Wikia is not accessible if you've made further modifications. Remove the custom ad blocker rule(s) and the page will load as expected.