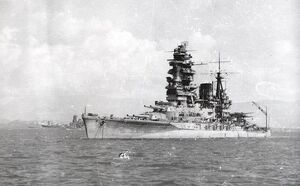 The Nagato-class battleship was a class of battleships used by the Imperial Japanese Navy from 1917 to 1918.
History
HIJMS Nagato, the lead ship in the class, was laid down on 28 August, 1917 and commissioned on 15 November, 1920. Nagato was the only Japanese battleship to survive World War II. It was later sunk during the Bikini Atomic Tests (Operation Crossroads). Nagatos sister, HIJMS Mutsu, was laid down on 1 June, 1918 and commissioned on 24 October, 1921. It was sunk on 8 June, 1943 from an internal explosion of unknown cause.
Ad blocker interference detected!
Wikia is a free-to-use site that makes money from advertising. We have a modified experience for viewers using ad blockers

Wikia is not accessible if you've made further modifications. Remove the custom ad blocker rule(s) and the page will load as expected.