Mitsubishi Ki-51
Talk

0
732pages on
this wiki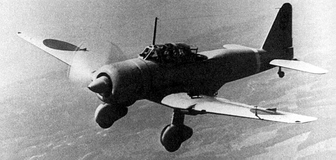 The
Mitsubishi Ki-51 Type 99 Assault Plane
(Allied codename:
Sonia
) was a military attack aircraft used during WWII by the
Imperial Japanese Air Force
. It first flew in 1939 and a total of 2,385 planes were built. A couple of these aircraft claimed a few
USN
submarines and ended up getting the last kills by the
Japanese
of WWII.
Development and construction
Edit
Designed to meet the requirement for a ground attack aircraft for the Imperial Japanese Army, two prototypes of the Ki-51, powered by a single Mitsubishi Ha-26-II engine, were tested in the Summer of 1939. The Ki-51 differed from the similar Mitsubishi Ki-30 Type 97 Light Bomber due to the new type's low set wing and revised cockpit.[N 1] The 11 service trials aircraft which followed the prototypes introduced armour protection for both the engine and the crew, together with aerodynamic improvements to improve the type's handling qualities at low speeds. Of the 2,385 examples built, 1,472 were built by Mitsubishi, with the remaining 913 built by the Tachikawa 1st Army Air Arsenal.[1]
Operational Service
Edit
Following it's introduction in China, the Ki-51 served throughout the Pacific War, mainly in secondary theatres due to the type's vulnerability to Allied fighters, before being used for Kamikaze attacks.[1]
One example was converted into a Ki-51a tactical reconnaissance aircraft. Mitsubishi designed a dedicated reconnaissance variant under the Ki-71 designation. Limited to three prototypes built by Tachikawa, this version had retractable landing gear and a 1,500 hp (1,119 Kw) Mitsubishi Ha-112-II engine.[1]
Specifications
Edit
Crew: Two
Length: 9.21 m (30 ft 2⅝ in)
Wingspan: 12.1 m (39 ft 8⅜ in)
Height: 2.73 m (8 ft 11½ in)
Wing area: 24.0 m² (259 ft²)
Empty Weight: 1,873 kg (4,129 lb)
Loaded weight: 2,798 kg (6,169 lb)
Max. Takeoff Weight: 2,920 kg (6,415 lb)
Powerplant: One Mitsubishi Ha-26-II 14 cylinder air cooled radial engine rated at 709 kW (950 hp)
Max. Speed: 424 km/h at 3 000 m (263 mph at 9,840 ft)
Range: 1,060 km (574 nmi, 660 mi)
Service Ceiling: 8,270 m (27,130 ft)
Wing Loading: 117 kg/m² (23.8 lb/ft²)
Power to Mass Ratio: 0.24 kW/kg (0.15 hp/lb)
Climb to 5,000 m (16,400 ft): 9 min 55 sec
Gun Armament:

Two fixed, forward-firing 7.7 mm (.303 in) Type 89 MGs (replaced with two 12.7 mm (.5 in) Ho-103 MGs in later variants)
One 7.7 mm (.303 in) Te-4 MG rearward-firing machine gun.

Bombload: 200 kg (441 lb) of unguided bombs or 250 kg (551 lb) of unguided bombs for suicide attacks.
References
Edit
Bibliography
Edit
World Aircraft Information Files Aviation Partwork. Midsummer Books Ltd.