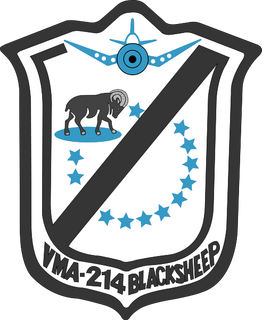 The Marine Attack Squadron 214 or VMA-214 was a US Marine Corps Fighter squadron during World War II. It was nicknamed "The Black Sheep" during the war and served throughout the South Pacific. The group was first formed in 1942 and still serves in present day.
References
Ad blocker interference detected!
Wikia is a free-to-use site that makes money from advertising. We have a modified experience for viewers using ad blockers

Wikia is not accessible if you've made further modifications. Remove the custom ad blocker rule(s) and the page will load as expected.