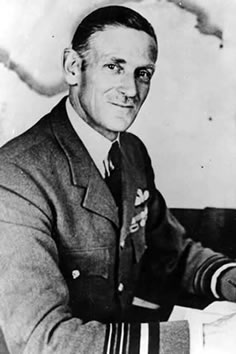 Air Chief Marshall Sir Keith Rodney Park was a senior RAF officer during World War II.
Description
Park was an effective and popular leader, with the gift of making those who served under him feel that they mattered. In order to find out what was going on without relying on the ponderous - and usually fallible - official channels, Park would often use OK-1, his personal Hurricane, to arrive at airfields without ceremony or prior warning,[2] and would occasionally seek permission to participate in the Squadron's next practice scramble.[3][N 1] A quietly devout man, Park drew great strength and comfort from his prayers during the Battle of Britain, once confiding to his personal assistant - Flying Officer Donald Wiseman - that he would have probably gone into the church if he had not remained in the RAF after the First World War.[2]
History
Early life and career
World War II
Post War
References
Notes
↑

It is unknown if OK-1 carried armament.
Sources
↑ 2.0 2.1 Price, Alfred. The Hardest Day The Battle of Britain: 18 August, 1940. Arrow Books Limited (1990 Edition). ISBN 0 09 969530 8. Page 20
↑

Price, Alfred Page 21
Ad blocker interference detected!
Wikia is a free-to-use site that makes money from advertising. We have a modified experience for viewers using ad blockers

Wikia is not accessible if you've made further modifications. Remove the custom ad blocker rule(s) and the page will load as expected.