Jagdgeschwader 3 or JG 3 was a fighter wing of the Luftwaffe during WWII. It served in all theaters of war that Germany participated in except for North Africa. It was originally formed in 1939 and it served until the end of the war. JG 3 operated mainly Messerschmitt Bf 109s and Focke Wulf Fw 190s during the war but by the end, they had been one of few squadrons to have received new Messerschmitt Me 262 jet fighters. 
Commanders
The first head commander of JG 3 was Max Ibel who took command in May, 1939 and was succeeded four months later by Karl Vieck. By late 1940, fighter ace Günther Lützow took control of the wing and remained the group commander for nearly two years. After Lützow, command was given to Wolf-Dietrich Wilcke, another fighter ace once more led for almost two years. The last wing commanders of JG 3 were Friedrich-Karl Müller, Heinrich Bär, and Werner Schröer who all served for around half a year or less.[2]
Structure
JG 3 was divided into four sub-squadrons that each had their own commanding officers throughout the war. These squadrons, I/JG 3, II/JG 3, III/JG 3, and IV/JG 3 however all reported to one commander at a time at the head of the fighter wing.
Unit History
After being formed in 1939, JG 3 was one of the units retained for Defense of the Reich, to protect against Polish retaliation following the invasion,[3], before becoming one of the many Luftwaffe squadrons to establish German air superiority over the skies of France. JG 3 also scored many aerial kills during this time, quite a few of them can be attributed to the aces of the wing such as group commander Günther Lützow. Following the Battle of France, JG 3 moved to attacking Britain which was successful technically by numbers of aircraft downed to aircraft lost but in reality was a bit of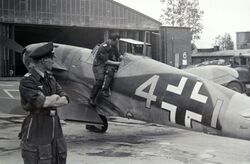 a hit for the squadron.[N 2] Like many others, JG 3 was reorganized and shipped out to the Soviet heartland to combat stiff Soviet resistance. Once more, JG 3 enjoyed a period of aerial domination. Jagdgeschwader 3 remained fighting along the Eastern Front for some time until it was called back to Germany for defense against Allied bombing raids where it stayed for the rest of the war minus a short time again in the Eastern Front. Here is where JG 3's reputation began to spread as it racked huge totals of kills of Allied bombers. One notable victory was during Operation Boddenplatte where German airfields were successfully held against droves of Allied bombers.[5]
Notes
↑ Most of the unit's aircraft had the insignia as shown, with only a few having it applied pointing in the other direction.[1]
References
Ad blocker interference detected!
Wikia is a free-to-use site that makes money from advertising. We have a modified experience for viewers using ad blockers

Wikia is not accessible if you've made further modifications. Remove the custom ad blocker rule(s) and the page will load as expected.