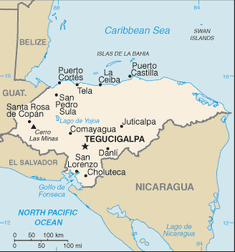 Description
The Republic of Honduras is a Central American country that entered World War II after the Pearl Harbor attack on December 7, 1941. It joined the war on December 8, 1941, when it sent a declaration of war to Germany.
Armed Forces
During World War II, military aviation was administered by the Department of War, Marine and Aviation.
[N 1]
Notes
References
↑ Gunston, Bill (Forward). Jane's Fighting Aircraft of World War II. Tiger Books. 1989. ISBN 1-85501-996-5. (Reprint of Jane's All The World's Aircraft 1945/1946. Bridgeman, Leonard (Editor). 1946). Page 47
Ad blocker interference detected!
Wikia is a free-to-use site that makes money from advertising. We have a modified experience for viewers using ad blockers

Wikia is not accessible if you've made further modifications. Remove the custom ad blocker rule(s) and the page will load as expected.