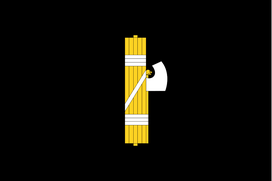 Fascism
is a form of extreme right-wing ideology that celebrates the nation or the race as an organic community transcending all other loyalties. It emphasizes a myth of national or racial rebirth after a period of decline or destruction. To this end, fascism calls for a "spiritual revolution" against signs of moral decay such as individualism and materialism, and seeks to purge "alien" forces and groups that threaten the organic community. Fascism tends to celebrate masculinity, youth, mystical unity, and the regenerative power of violence. Often, but not always, it promotes racial superiority doctrines, ethnic persecution, imperialist expansion, and genocide.
At the same time, fascists may embrace a form of internationalism based on either racial or ideological solidarity across national boundaries. Usually fascism espouses open male supremacy, though sometimes it may also promote female solidarity and new opportunities for women of the privileged nation or race.Fascism is hostile to Marxism, liberalism, and conservatism, yet it borrows concepts and practices from all three. Fascism rejects the principles of class struggle and workers' internationalism as threats to national or racial unity, yet it often exploits real grievances against capitalists and landowners.
Ad blocker interference detected!
Wikia is a free-to-use site that makes money from advertising. We have a modified experience for viewers using ad blockers

Wikia is not accessible if you've made further modifications. Remove the custom ad blocker rule(s) and the page will load as expected.