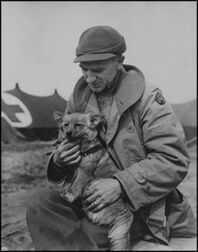 Ernest Taylor 'Ernie' Pyle (3 August, 1900-18 April, 1945) was an American war correspondent who is famous for his reporting in many different places throughout the war. He was born in Dana, Indiana and died on Lejima island near Okinawa. Among the famous events that Ernie reported include, the London Blitz, Operation Cobra, and of course, the Battle of Okinawa.
Life and career
Early Life
Pyle served in the United States Navy for three months during World War 1.[1]
After studying journalism at Indiana University, he found work on a small newspaper in La Porte, Indiana. In 1923 he moved to the Washington Daily News and eventually became the paper's managing editor. In 1932 he was commissioned to write a travel column for the Scripps-Howard newspaper chain, which he did until the outbreak of the Second World War, when he became a war correspondent.[2]
World War 2
Moving to England in 1940, Pyle reported on the Blitz for the New York World Telegram. Pyle went with the US Army to North Africa in November 1942, which was followed by the invasions of Sicily and Italy. He also accompanied Allied troops during the Normandy landings and witnessed the liberation of France. By 1944 Pyle had established himself as one of the world's outstanding reporters and Time hailed him as "America's most widely read war correspondent."
John Steinbeck commented: "There is, the war of maps and logistics, of campaigns, of ballistics, armies, divisions, and regiments. Then there is the war of homesick, weary, funny, violent, common men, who wash their socks in their helmets, complain about food, whistle at Arab girls, or any other girls for that matter, and lug themselves through as dirty a business as the world has ever seen and do it with humanity and dignity and courage - and that is Ernie Pyle's war."
Pyle became disillusioned with the war and wrote to his wife: "Of course I am very sick of the war and would like to leave it, and yet I know I can't. I've been part of the misery and tragedy of it for so long that I feel if I left it, it would be like a soldier deserting." In 1945 Pyle was awarded the Pulitzer Prize for journalism. Later that year he went with US troops to Okinawa. On 17th April, 1945, Ernie Pyle was killed by a Japanese sniper, while on a routine patrol.[2]
Legacy
References
↑ 2.0 2.1 © John Simkin, September 1997 - June 2013 via http://www.spartacus.schoolnet.co.uk/2WWpyle.htm?menu=2WWreporters
Ad blocker interference detected!
Wikia is a free-to-use site that makes money from advertising. We have a modified experience for viewers using ad blockers

Wikia is not accessible if you've made further modifications. Remove the custom ad blocker rule(s) and the page will load as expected.