Consolidated B-32 Dominator
Talk

0
728pages on
this wiki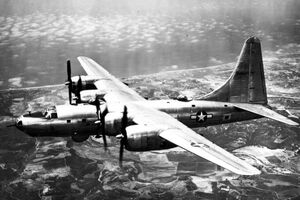 The Consolidated B-32 Dominator was a heavy bomber that was used by the United States during WWII. The B-32 was powered by four Wright R-3350-23 Duplex Cyclone 18 cylinder radial engines, giving the aircraft a maximum speed of 587 km/h. Range was 1,287 km with maximum bomb load, and 6,115 km with maximum fuel. Armament consisted of ten 12.7 mm guns in five turrets and a maximum bomb load of 9,072 kg.[1]
Service ceiling was 10,670 m and initial climb rate was 1,050 ft (320 m) per minute. Empty weight was 60,272 lb (27,339 kg) and max take off weight was 55,906 kg. The B-32 measured 25.02 meters in length and 9.80 m in height, with a wingspan of 41.15 m.[2]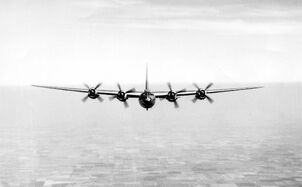 It was the last US aircraft built during the war to see combat. Ordered in September 1940, the B-32 was designed in tandem with the
B-29 Superfortress
- to the same Hemisphere Defence Weapon specifications - in case that aircraft failed.
[1]
A high wing monoplane of somewhat smaller size than the B-29, with retractable tricycle undercarriage, the first prototype made it's initial flight on 7September 1942, two weeks ahead of the XB-29. Known as the
Consolidated Model 33 (XB-32)
,
[2]
the type had a smooth streamlined nose, like the one on the B-29, and twin fins like those on the
B-24
.
[1]
The second prototype, first flown on 2 July 1943, introduced a stepped pilot windscreen, while the third, first flown on 9 November 1943, was fitted with the single large fin of later B-24s. The layout for the third prototype was selected for the
Model 34
, which entered production as the
B-24 Dominator.
[2]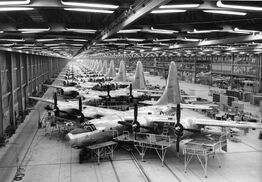 The heavy and complex armament was eventually replaced with manned turrets. This move was followed in 1943 by elimination of the troublesome pressurisation system, resulting in operations being restricted to a maximum altitude of 30,000 ft. This led to the delivery of operational B-24s being delayed until November 1944, by which time B-29s had been operating from forward bases in China for almost eight months.[2] As a result, only 115 of the large number ordered from Fort Worth and San Diego had been delivered by VJ Day,[1] Only seeing action with a few units against Japanese targets in 1945, 15 examples becoming operational with the 386th Bombardment Squadron at Okinawa. A pair of B-32s were involved in the last aerial combat of World War II, when they were attacked by 14 Japanese fighters while conducting a photo-reconnaissance mission over Tokyo on 18 August 1945. The action resulted in the destruction of at least two - possibly four - Japanese fighters. One B-32 crewman was killed, and another two were wounded.[2]
Some 40 examples of a TB-32 training aircraft were also produced, but both versions were quickly withdrawn from service following the end of World War II.[2] None were preserved.
References
Edit
↑ 1.0 1.1 1.2 1.3 Gunston, Bill. Illustrated Directory of Fighting Aircraft of World War II. Salamander Books. 1988. ISBN 0-86101-390-5 Pages 364-365