German Half-Tracks
Category page
Talk

0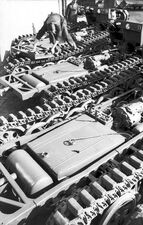 Throughout the war, Germany had developed numerous different types of half tracks used for various different purposes. Below are the production values for these vehicles.
Half Tracks were crucial to the German Wehrmacht's advance through Europe. They served in a number of roles and were usually reliable, something that was not common on the battlefield. Furthermore, their combat effectiveness and ability to increase the effectiveness of units like tank divisions and infantry made them a standard part of the Wehrmacht.
Half-Tracks in German doctine were designed ideally to support infantry and make sure that they were able to keep up with advancing panzer divisions, though the reality was that oftentimes the half-tracks simply were not made in the quantities needed for effective mechanization of infantry. (Production values are estimates).
Pages in category "German Half-Tracks"
The following 16 pages are in this category, out of 16 total.