Bombing of Pearl Harbor
Talk

2
728pages on
this wiki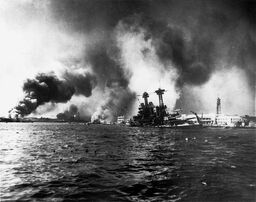 The Bombing of Pearl Harbor was a surprise attack by the Japanese against the U.S. Pacific Fleet. It led to the declaration of war by the United States and brought them into World War II. Pearl Harbor was attacked by 353 Japanese fighters, bombers and torpedo planes. Japan had planned this attack for a year and a half, training for 14 hours a day. The first wave of the attack arrived on December 7th, 1941 at about 7:49 AM, Hawaiian time.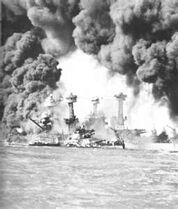 The war declaration was supposed to come half an hour before the attack, but communications were slow, and arrived after the US declared war on Japan. After the attack was over, about 2,403 US servicemen were killed, (around half of which were from the destruction of the USS Arizona) and 188 US Aircraft was destroyed, along with 53 civilians and about 64 Japanese servicemen, as well as one Japanese sailor, a submariner named Kazuo Sakamaki, captured. The attacked targets were USS California, USS Maryland, USS Oklahoma, USS West Virginia, USS Arizona, USS Tennessee, USS Nevada, USS Pennslyvania, Ford Island NAS, and Hickam Field.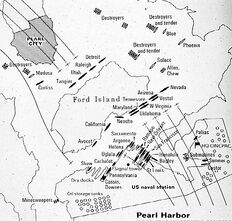 Planning the attack was Isoroku Yamamoto. The original plan was to involve the destruction of the US Aircraft Carrier fleet, which he believed the destruction of would greatly lower the US's ability to wage war. Luckily for the Americans their Carrier fleet was out on a drill leaving them undamaged from the attack. This combined with the fact that the avation fuel tanks and dry docks remained undamaged allowed the US to wage war in only six months instead of the predicted two years in which the Japaneese hoped to significantly advance.
The United States knew that they had treated the Japanese poorly and knew an attack was coming. In 1850, the US took an iron-clad vessel over to the Japanese Islands and forced them to unfairly trade by means of 'gunboat diplomacy'. The Japanese weren't as technologically advanced and so, seeing what they were just threatened with, had to advance their technology, and quick. First, they went to get resources from China. But, although every other country had taken a chunk out of China, Japan wasn't allowed to because the Americans, along with everyone else, forbade it. Then the US froze all Japanese assets that were in American banks. But even so, the Japanese manage to upgrade their technology enough to defeat the Russians and French before WWI and attack the Americans in WWII.