BA-10
Talk

0
733pages on
this wiki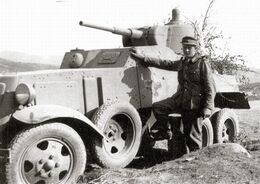 The BA-10 was a six-wheeled, armored car used by the Soviet Union during WWII. It had a gasoline powered, 50 hp, GAZ M1 Engine capable of propelling the BA-10 at speeds of up to 85.2 km/h. The chassis of the BA-10 was based on that of the GAZ-AA Truck.[1] The engine was located at the front if the vehicle while the driver had to look out of small slits, also at the front of the vehicle.
It also had a crew of four and an operational range of about 300 km. The armor protection on the BA-10 varied from 10mm to 16mm on all areas of the car.[2] Due to this small armor thickness and the tall silloutte, the car could easily be knocked out and the crew was left very vulnerable. The armament of the BA-10 was a 45mm main gun and two DT MGs. The weight of the BA-10 was about 4,662.9 kg and the length was 4.6 meters.[3]
In total, forty-three rounds of 45mm ammunition could be carried within the armored car and there were six wheels/tires in total. A littler over 2,000 MG rounds could also be carried onboard. The weight of the entire vehicle was approximately 5,283.4 kg while the entire length was 4.7 meters. The width was 2 meters and the height was 2.4 meters.
The BA-10 had only one official variant that actually saw service and one that stayed only in the prototype stage. The first variant of the BA-10 was the BA-10M. It had the same turret as the T-26 Infantry Tank and another designation for it was the BA-32. An unofficial variant of the BA-10 was a turretless version that was used as an APC There was even ambulance and ammunition carrier versions.[1] The other prototype variant was known as the BAZ and was meant to be amphibious.
The BA-10 first entered service with the Red Army in 1932 and it was used almost throughout WWII. The BA-10 was developed from ealier BA-3 and BA-6 designs and it was the last of the series of Soviet, six wheeled armored cars.[4] The BA-10 was turning obsolete by 1941 however and service seriously declined by 1942. The first actual test of the BA-10 in combat however was during the Soviet-Japanese Border Clashes. The BA-10 was officially withdrawn from service in 1943 and well over 3,000 models. Although, some did stay in service until 1945.
References
Edit