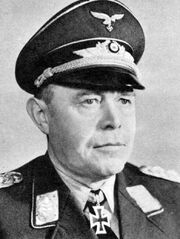 Albert Kesselring (1885-1960) was the Luftwaffe's one time Chief of Staff. He is also well known for taking command of German forces in Italy and he was nicknamed "Smiling Albert" by Allied troops.
Early career
In 1914, Albert Kesselring was an officer in a Bavarian artillery regiment, adjutant and officer of the General Staff. After the First World War, Kesselring was an Oberstleuntant (Lieutenant-Colonel) in the Army Staff of the Reichswehr,[2] where he gained a reputation as an extremely capable administrator, before transferring to the Luftwaffe in October 1933.[3] In 1935 he became Chief of the Luftwaffe Administration Office with the rank of Generalleutant, and was elevated to Luftwaffe Chief of Air Staff with the rank of General der Flieger two years later. In 1938 Kesselring assumed command of Luftflotte 1 (Air Fleet 1) headquarters in Berlin,[2] which he led during the attack against Poland.[3]
World War 2
In 1940, Kesselring was a Generalfeldmarschall in charge of Luftflotte 2, which had it's headquarters in Brussels, and comprised all combat units in Holland, Belgium and areas of France east of the river Seine. Lacking any deep technical knowledge of aircraft, Kesselring would prepare for an inspection of a flying unit by reading up on a small part – such as the fuel injection system – before asking probing questions about it. When word about this practice got around, subordinates would wait with amusement to discover what part Kesselring had read about, while gaining respect for a senior officer willing to take the time and effort to impress those who served under him.[4]
In 1941 Kesselring became Commander-in-Chief of the Southern and South-western fronts in Italy and the Mediterranean, while retaining command of Luftflotte 2. Relinquishing command of Luftflotte 2 in 1943,[3] Kesselring remained Commander-in-Chief of the Southern and South-western fronts until 1945, [2] when appointed C-in-C West in March of that year[3] following Hitler's final dismissal of Field Marshal Gerd von Rundstedt.[5]
Post War
Kesselring was condemned to death as a war criminal in 1947, but was released in 1952[6] after his sentence was commuted to life imprisonment in 1947 at the request of Winston Churchill and Field Marshal Alexander.[7]
Generalfeldmarschall Albert Kesselring died in Bad Nauheim in 1960.[2]"
Quotes
| | | |
| --- | --- | --- |
| " | A soldier's first duty is to obey, otherwise you may as well do away with soldiering . . .A military leader often faces a situation he has to deal with, but because it was his duty, no court can try him | " |
| | ~ Kesselring explaining his actions to US Army psychiatrist Leon Goldensohn. | |
References
↑ 2.0 2.1 2.2 2.3 Herwig, Dieter and Heinz Rode. Luftwaffe Secret Projects: Strategic Bombers 1935-1945. Midland Publishing. 2000 edition. ISBN 1 85780 092 3 Page 12
↑ 3.0 3.1 3.2 3.3 Price, Alfred. The Luftwaffe Data Book. Greenhill Books. 1997. ISBN 1 85367 293 9 Page 251
↑

Price, Alfred. 1988

↑ Willmott, H.P., Robin Cross and Charles Messenger. DK Illustrated Guide to World War II. Dorling Kindersley Limited. 2012 reprint. ISBN 978 1 4093 7649 1 Page 270
↑ McGovern, Una - Editor. Chambers Biographical Directory 7th Edition. Chambers Harrap publishers Ltd. 2002. ISBN 0550 10051 2 page 847
↑ Roberts, Andrew. The Storm of War - A new history of the Second World War. Penguin Books. ISBN 978 0 141 02928 3. (2010). Page 380
Ad blocker interference detected!
Wikia is a free-to-use site that makes money from advertising. We have a modified experience for viewers using ad blockers

Wikia is not accessible if you've made further modifications. Remove the custom ad blocker rule(s) and the page will load as expected.