Adolf Hitler
Talk

0
723pages on
this wiki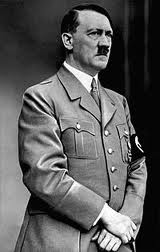 Adolf Hitler
(1889-1945) was a German dictator that was responsible for the creation of the Third Reich, the execution of
the Holocaust
, and the rise of the Nazi party.
Biography
Edit
Adolf was born on April 20th, 1889[1], in the small Austrian town of Braunau near the German border. Both of Hitler's parents were from poor, peasant families. His father, Alois, had been a customs officer on the border.[2] He also had three wives, and Klara Hitler (Adolf's mother) was the third one. Klara and Alois had five children, but only Adolf and his younger sister, Paula, survived to become adults.
Adolf's father was extremely keen for his son to do well in life. Alois already had a son from an earlier marriage, but he had wound up in jail for theft. Alois was very strict, and would beat up his son if he did not do as he was told.
World War I
Edit
Between the Wars
Edit
On 25th February 1932, Hitler became a German citizen, becoming a representative of the Brunswick state government to Berlin,[3] before being selected to replace Papen as Chancellor of Germany on 30th January 1933. [4]
On 4th February 1933, Hitler issued a decree 'For the Protection of the German People'. This gave the German Government powers to ban political meetings and suppress publications deemed harmful to the public interest. This was followed by a directive issued to German police forces thirteen days later, directing them to cooperate with the SS and SA in dealing with 'opposition forces'.[4]
World War II
Edit
References
Edit